If you Just have Lemon ,we will make Lemonade out of it !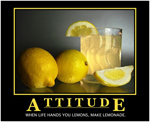 If have basic understanding of IT and Strong in Analysis You can become a SalesForce Analyst. You will join as Business Analyst and slowly upgrade to use world famous CRM tool SalesForce. Manage Salesforce.com CRM application. Responsible for maintaining the functional areas of data management, forecasting, deal registration, contacts, leads, campaigns, opportunities, quotes, dashboards and reports etc
Skills
The ideal candidate will have prior knowledge of programming languages, have some degree of understanding of OOP/OOA/OOD, and have a Master's Degree in Computer Science, Computer Information Systems, Computer Engineering, Software Engineering, or related field.